Pilot-MUX
Description
ANT/CAN/Wireless/RS-232 Interface
Pilot-MUX has been used in yacht racing, open and closed wheel racing, cycling, live TV events, scientific research and in more than one record-breaking event.
NOTE: this product is no longer available.
Help Files
Specifications
The following specifications are representative but approximate since they vary between the specific model variants, connectivity and output rate. Dimensions do not include cable or connector and specifications are approximate and subject to change.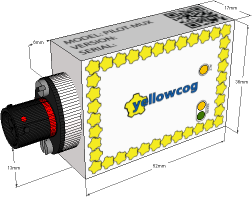 | | |
| --- | --- |
| Dimensions | 52 x 36 x 17mm (2" x 1½" x ¾") |
| Weight | 30 grams (1 ounce) |
| Required Power | 5V to 24V |
| Consumption | 1 Watt, peak |
| Long range radio | 100m direct line-of-site |
| ANT | 2.4GHz wireless sensor support |
| RS-232 Output | EIA/TIA-232E, up to 115kbaud |
| CAN Output | 2.0B, ISO 11898, up to 1MHz |
| Pilot Connector | Autosport ASL006-05PN-HE |
| Customer Cable | Autosport ASL606-05SN-HE |