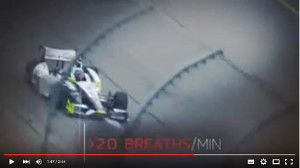 Sport Science has released "Sport Science: Youth vs. Experience". Yellowcog provided the real-time physiological data on the drivers. Heart rate, breathing rate, core temperature and g-forces were collected as well as more detailed information such as respiratory waveforms and ECG.
The show looks at the physiological differences between IndyCar drivers Josef Newgarden (Car 67, Sarah Fisher Hartman Racing) and Helio Castroneves (Car 3, Team Penske).
The video is only three minutes long but packs a lot of information in!