Isle of Man Subaru TT Attack, a return to the island for yellowcog. We were there to lend our expertise in biometric monitoring to Subaru, Prodrive and, of course, Mark Higgins. The purpose was the break the current record for a car on the TT circuit (officially the Snaefell Mountain Course). The first target was the previous car lap record set by Higgins in 2014. The next part was to see where the car could come compared to the bikes.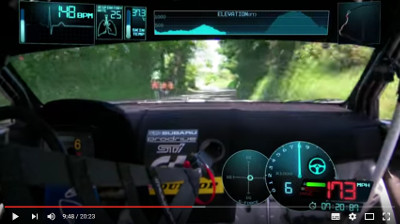 If you've never seen footage of the TT riders in action then following this link right now! Everyone there is there to race yet the atmosphere in the pits is a strange one. On the one hand the atmosphere is very friendly, very relaxed and inclusive. On the other hand is the undertone of danger. Riders die every year. Many died in 2016. Every team, many of which are run by the families, know that as the rider disappears off out of sight there is a very real chance that they will be seriously hurt. Yes, it is dangerous, and whatever the vehicle, it takes guts.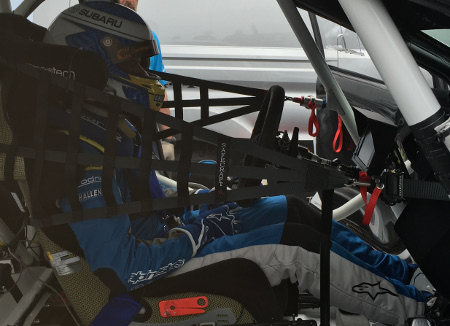 There are obvious pros and cons of car and bike. The TT bikes are very light yet powerful so reach incredible top speeds. Bikes though are limited by tyre surface area, they only have two wheels and the tyres have to be profiled so that the bike can lean in on the corners. This leaves bikes with a very small tyre contact patch. Compare this to the Subaru fitted with four fat racing slicks. The Subaru is of course very powerful too but is also much heavier. All this equates to the bikes being fastest on the straights and the Subaru being fastest on the corners. There are a lot of straights and corners on the TT circuit.
On our previous trip to the island, Mark Higgins completed the circuit in 19m15.88s which gives an average speed of 117.51 mph (189.114km/h). This year the car was much more powerful and now engineered in what we might call Full Rally Spec by Prodrive. All-in-all it is a beast of a car. The plan was to make three or four attempts to beat the 2014 time but also to challenge the various categories of bikes. As always (in our experience) on the Isle of Man, the weather came into play. This scuppered a few of the runs as delays pushed back schedules. The good news was that on Higgins's first full run he smashed his previous time. Then on Saturday he beat that time again clocking in at 17m35.139s which is an average of 128.730mph (207.17km/h). Here's how Higgins compares to the bikes:
| | | | | | |
| --- | --- | --- | --- | --- | --- |
| Class | Machine | Human | Lap Time | Avg mph | Avg km/h |
| Outright | BMW S 1000 RR | Michael Dunlop | 16:53.929 | 133.962 | 215.591 |
| TT Superbike | BMW S 1000 RR | Michael Dunlop | 16:58.254 | 133.393 | 214.675 |
| Superstock TT | BMW S 1000 RR | Ian Hutchinson | 17:00.510 | 133.098 | 214.200 |
| TT Challenge | Subaru WRX STI | Mark Higgins | 17:35.139 | 128.730 | 207.171 |
| Supersport | Honda CBR 600 RR | Michael Dunlop | 17:35.659 | 128.666 | 207.067 |
| Lightweight TT | Kawasaki 650 | James Hillier | 18:43.955 | 120.848 | 194.486 |
| TT Zero | Team Mugen | John McGuinness | 18:58.743 | 119.279 | 191.960 |
| Sidecar TT | LCR Honda 600 | Ben & Tom Birchall | 19:22.928 | 116.798 | 187.968 |